American regional cooking reflects the ethnic contributions of those who settled our vast nation. The recipes brought to this hemisphere by those who emigrated from other parts of the globe more often than not contain foods that began their global journey right here in the Western Hemisphere as part of the Columbian Exchange.

This two-volume work, chuck full of easy-to-follow recipe ideas and equally full of gems of collected wisdom, both culinary and historical, is a very personal journal by an author who has searched the world to ferret out recipes to feed her family and her own adventurism. Vegetarian dishes (1,528) from 164 nations have been gathered to not only introduce international vegetarian menu ideas; to not only confirm that vegetarianism is much more than just a meatless way of life; but also to show how these ethnic dishes would not have been possible without the introduction of foods from the land to which they now return with immigration. A menu accompanies each country that encourages experimentation and allows for the comfortable integration of the new and interesting with dishes familiar to most Americans.



Volume I includes an extensive introduction, Europe, the Middle East, the Caucasus, Central Asia and South Asia.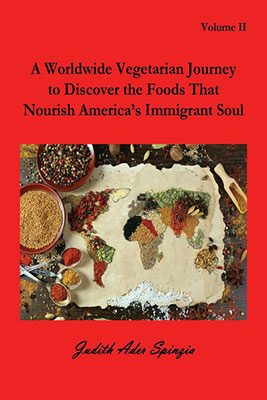 Volume II includes Africa, Asia, Oceania, and the Americas plus an appendix of basic recipes.
Forthcoming Publications
Long Island's Prominent Families in the Town of East Hampton:
Their Estates and Their Country Homes
Louis Comfort Tiffany's Ecclesiastical Stained Glass Windows on Long Island
(working title)